Playground Budgeting & Costs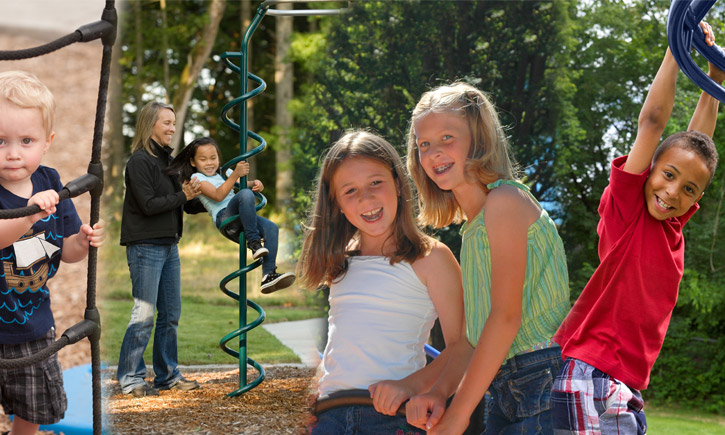 Budgeting & Playground Cost
Creating a Playground Budget is one of the initial phases of planning for your playground project. The five key areas to keep in mind are: the cost of the playground equipment, the cost of the playground surfacing, the cost of installation, the cost to ship the equipment, and the cost of the site amenities and accessories. Below is a list of key areas that are important to note within your playground budget. If you have any questions or need help, please contact us and we can help you design and build your playground.
Playground Equipment Cost
Your playground budget should be determined by the number of children you expect to use the playground at any given time. We suggest that our clients plan to budget $1000 per child. For example, if you are designing a playground to be used by 100 children at once, you should allocate $100,000 of your overall playground project cost to the play equipment. A playground that can handle 100 children is considered a very large playground. The average playground is designed to occupy around 50 kids at a time. When trying to estimate how large your playground should be, contact one of our playground specialists today.
Playground Surfacing Cost
Your surfacing cost will reflect the square foot diameter of your playground and the type of playground surfacing you choose. Read our partner's playground surface comparison article to understand the initial cost and the long-term maintenance cost of each type of surface. If you choose the more expensive Poured in Place Rubber surfacing, it will have a higher initial cost but will have a much lower long-term maintenance cost. Poured in place, unitary surfacing retains its aesthetic appeal and safety attributes for many years. On the other hand, choosing engineered wood fiber will be cost-efficient initially, but has higher long-term maintenance costs. Over the years, the wood chips will degrade and additional wood chips will need to be added on top to help maintain the level of depth for accurate safety measures. Again, contact our specialist.
Playground Installation Cost
The cost to prepare and site and install the surfacing and playground equipment is another line item you should be aware of. The site itself will most likely need to be graded and leveled so the safety surfacing can be installed correctly. Then the safety surfacing and the playground equipment each come with their own installation costs.
Freight Costs
The cost to move your playground equipment from the manufacturing facility to your site is an often-overlooked cost to building a playground. Depending on the size and quantity of your playground equipment, you might need to review the shipping costs associated with it. You might be purchasing equipment from different parts of the country and the shipping costs will vary. Contact our playground specialists for more information on how much shipping could potentially cost.
Site Amenities
The primary focus of your playground is the safety surfacing and the playground equipment. You should also be aware of potential site amenities you'll want to include. By site amenities, we mean trash receptacles, tables, water fountains, benches, and bicycle racks. These are necessary to make your park and playground as clean and comfortable as possible. You should include potential site amenities for your overall playground budget.
Again, we have a team of playground specialists that can help you design and develop your playground. Please get in contact us today to start the playground development process!